Your digital and online presence matters more than ever. Having a clear and engaging website is essential for both gaining new customers and ensuring existing customers keep coming back.
A highly converting website functions thanks to several important factors, from clearly identifying your customers' problems and providing high-quality content to ensure your website provides value to your ideal customers.
There are many different considerations to be mindful of when transforming your website in order to improve your conversion rates. In this article, we will discuss the ins and outs of attaining a high converting website and outline 7 must-haves for achieving this goal.
Defining a Highly Converting Website: Why to Have it?
When describing a website as being "highly converting," what this means is that visitors coming through to your site are completing the desired actions you have set before them – be it filling out a form, signing up for a newsletter, or even purchasing a product – at a high rate. 
In truth, businesses across all industries can greatly benefit from taking the steps to improve their website's conversion rate – be it clothing retailers offering special discounts for signing up for a company newsletter, medical offices using new patient forms, or tech companies promoting their newest software.
No matter the industry, however, the most important factor is actually being able to build long-lasting relationships with your existing audience alongside bringing in new customers.
We will be discussing the 7 must-haves for transforming your conversion rates and creating a website that is much more customer-friendly and high-converting. These must-haves include:
Understanding of Customer's Main Problem
High-Quality Content
Error-Free Webpages
Optimized Titles and Descriptions
Ideal Page Speed
Call-to-Action Buttons
Clear Messaging with the StoryBrand Framework
1. Understanding of Customer's Main Problem
In order to create a highly converting website, your main focus should be your customers and the immediate and primary problems they face. By addressing their specific problems, you will be able to connect with your customers with much greater ease.
Here are some of the best ways for researching and identifying the problems of your target audience:
Check Out Online Reviews and Forums
Finding online forums that are relevant to your industry and checking out reviews given for products or services similar to your own is one of the most effective means for finding out exactly what customers are looking for and what they generally feel disappointed with.
Use SemRush to Find Popular Questions About Your Industry
SemRush is an online platform used for SEO, content marketing, competitor research, and more all on their single platform. Users can analyze data about specific industries and target audiences, and even conduct keyword research and discover popular questions that appear in searches related to their industry. 
Take a Look at Your Competitors
There is a lot of information to be gained from your research and looking over your competitors' websites – especially those who appear to have much higher conversion rates than your own. Plus, looking at your competitors is also a good opportunity to tap into their audience and see what they may be missing that you can offer.
2. High-Quality Content
The value of the content you post for your audience matters. Not only does publishing high-quality content provide greater value to your existing audience encouraging them to return to your website again and again, but it also improves your SEO ranking by bringing more web traffic through to your site overall.
Know How to Create Awesome Content
You don't just want to post any random content; you want your content to be geared towards your audience, well researched, and well written.
Here are four characteristics of awesome content:
Clear: You want to demonstrate your expertise without boring or overexplaining. Clear and concise messaging in your content is key.
Actionable: Your content should strive to provide solutions to your customer's questions, and thus should provide actionable steps for your audience to follow.
Resourceful: Including links to your research is not only great for building credibility, but it also shows your audience that you want to provide them with all the necessary resources to succeed.
Engaging: Treating content like a narrative project in which the story must always connect back to the main subject, the customer, is an effective way of creating content that is highly engaging.
Decide on the Most Effective Frequency for Publishing Content
While the immediate instinct for publishing content may be to put out as much new content as possible each day, it can be much more beneficial to establish a weekly – or even monthly – publishing schedule that focuses on creating the most high-quality content possible.
It can also be useful to craft pieces of content that are considered "evergreen content," meaning that the subject matter is likely to stay relevant and useful to your target audience for a very long period of time – thus increasing its overall ability to bring in new visitors.
3. Error-Free Webpages
Errors on your website can have an immensely negative impact on the overall user experience, and thus drive visitors away from your site. Ensuring your website is error-free is an absolute must. Here are some considerations when identifying and correcting errors on your site:
Types of Common Errors and How to Deal with Them
500 Internal Server Error: This error has to do mainly with overloading the webserver and will generally require you to get in contact with your web hosting provider if the problem persists.
400 Bad Request: This error can occur for a number of reasons, from URL syntax errors to corrupted browser cache and cookies. Fixing these errors will often require clearing the cache and cookies, and may also require deactivation of browser extensions. 
401 Unauthorized: As the owner of the website, you get to decide which pages are viewable by the public and which can only be accessed by authorized personnel. Here is a great guide for correcting 401 Unauthorized Errors.
403 Forbidden: Error 403 typically occurs due to either incorrect file permissions or incorrect .htaccess settings and accessing this file and looking for incorrect settings is the main method of correcting this error.  
404 Not Found: 404 errors occur due to broken links and can be corrected fairly easily by redirecting the page. 
4. Optimized Titles and Descriptions
Your title and descriptions you provide for each page are not only important for catching the eyes of your readers and page visitors, but they are also crucial for providing Google and other search engines with the information that will contribute to your ultimate search engine ranking. As such, optimizing your page titles and descriptions is crucial.
Give the Best Description of What the Page is About
Your descriptions for each of your pages need to be clear, concise and should contain the primary keyword(s) being used. Keywords, in fact, should play a large role in each of your titles and within your descriptions, as these are the words search engine bots and crawlers will be primarily searching for.
Don't Forget About Character Count
Character counts have a fairly significant impact on your content. The general rule of thumb is that page titles should be 60 characters or less and meta descriptions should be 155 characters or less.
5. Ideal Page Speed
Your page speed refers to how quickly each page of your website loads. Ideally, you want the fastest page speed possible. Generally speaking, the target page speed is 2 seconds or less, though even faster speeds are certainly possible.
Not only does your page speed impact how many visitors stay on your page, but it also is one of the big contributing factors used by Google's algorithm when ranking pages for search results and queries.
Have Regular Check-Ups for Both Mobile & Desktop Versions
Nowadays, there are many tools and resources available to website owners that allow them to check their page speeds and identify potential issues. Scheduling regular maintenance and checkup days for your website is necessary for ensuring your page speed stays below 2 seconds.
Take Actions to Decrease Loading Time
Here are a few examples of actions that can be taken to decrease page loading time:
Enable file compression to decrease the size of files containing programming information and code.
Check the sizing of your images and ensure they have been compressed and optimized for use on the web.
Keep an eye on your server response time – you should aim for a response time less than 200ms.
6. Call-to-Action Buttons
The call-to-action, or CTA, is the foundation of many sales and marketing strategies, and for good reason. CTA buttons serve a multi-purpose of both helping to lead your visitors around your site, while also leading them towards the decision of making a purchase or using your services in some way.
Guide Your Visitors Easily
CTA buttons ultimately can help immensely to guide your visitors towards the solution you are driving them to – be it a purchase, the creation of an account, or any other action. By providing a call-to-action that is clear to understand and easy to follow, you can greatly improve your conversion rates and more effectively guide visitors towards the conclusion you have set for them.
Examples of Best CTAs
Here are just a few examples of the best and most commonly used CTAs:
Sign Up Here
Subscribe for More
Try for Free for X Days
Join Us Today
Learn More
7. Clear Messaging with the StoryBrand Framework
The StoryBrand Framework is designed to help businesses place much greater focus on their customers by viewing their messaging as a journey in which the customer is the hero, placing you as the businessperson in the role of the hero's guide.
Integrate StoryBrand Framework Techniques
When integrating StoryBrand into your own website strategy, the key is to follow and apply the 7 principles of the framework. They are as follows:
Identify the hero
Identify the hero's problem
Introduce yourself as the guide
Provide the hero with an actionable plan
Motivate the hero with a call-to-action
Discuss the potential for failure and how you will help them to avoid it
End with a message of success
Be Clear when Reaching to your Audience
StoryBrand is all about improving your message through enhanced clarity and conciseness. A key philosophy of StoryBrand is:
"If you confuse, you lose."
Keeping your messaging as clear as possible is the key to ensuring your audience is understanding your calls-to-action and the solutions you are providing.
Receive Constant Feedback
StoryBrand focuses on clearing the lines of communication between you and your customers, and as such, feedback plays a major role in the successful implementation of the framework. Feedback is immensely beneficial, as it allows you to identify the most and least effective elements of your website, while also keeping you up to date and quickly alerted to any new errors.
Final Thoughts
The next time you are surfing the Internet, try paying attention to which websites you are staying on versus which ones you click off of immediately. This is one of the best ways for recognizing what elements of a website catch your eye the most and can provide you with tremendous insight into the importance of making your own website catchy.
What is ultimately going to catch your target audience's eyes will be clear statements through providing details on how you can help to solve their problems. Remember that the customer should always fill the role of the hero, and your web design, messaging, call-to-action buttons, and all other elements should contribute to your role as their guide.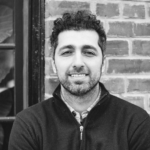 Moses Mehraban, a StoryBrand Consultant and Certified Guide. Having 15+ years of marketing experience, he has provided his help to clients from a wide range of industries, including tech start-ups to medium-sized companies. Through his professional experience and skills, he has been implementing the StoryBrand Marketing Framework and assisting companies with experience-based solutions.
Your comments are welcome!