Companies currently use the cloud to reduce operational costs, fulfill their daily data needs, and gain seamless operations flexibility. But they are on a constant lookout for a reliable and efficient infrastructure to handle emerging market needs with minimal effort. This burgeoning demand for cloud services has aspired big giants like Google, Alibaba, Amazon, and Microsoft to take a foray into this market.
Companies seek to ensure secure network access to data and business continuity to build a sustainable environment. As a result, cloud auditing is gaining traction. Cloud auditors explore the potential of given cloud services and evaluate significant cloud capabilities that indicate their reliance on its security protocols, technical performance, and cost optimization.
Cloud computing has attracted a lot of eyeballs over the past few years. This can be witnessed from the maturity of standards used to administer these resources. This article will outline the meaning of cloud audit, its scope, and necessary audit steps.
What Does Cloud Audit Mean?
A cloud audit is a process of estimation to improve data availability and consider crucial cloud security aspects. The process involves a technical investigation and presentation along with a detailed report on the performance of your current cloud infrastructure. Depending on the scope and client's specifications, cloud auditors or cloud auditing companies can conduct the audit of cloud systems.
In a cloud computing audit, there are multiple steps to form an opinion on the operational effectiveness and design of controls identified in different areas. Risk management, data management, network security, system development, communication, vulnerability, and remediation management are some of these areas.
Why Do You Need a Cloud Audit?
A cloud audit offers insights into the current state of your cloud infrastructure. In addition to this, it helps you identify room for optimization, compliance, and potential improvements. You can even use tools, web applications, protocols, and network scanners to understand whether their procedures comply with industry standards or are vulnerable to virus attacks.
Cloud auditing is much more complicated than regular IT auditing as it can be internal or external as a standard IT audit. Inside auditors audit internal cloud systems to analyze the processes and data to improve an organization's efficiency. On the other hand, a reputed external cloud auditing firm or an expert auditor conducts an external audit.
Types of Cloud Audit
The ultimate aim of cloud computing is to estimate service implementation costs and align expenditure with the demand for data storage, processing, and accessibility. Depending on the area that a company chooses to investigate and acquire specific information, there are different types of cloud audits.
Here are a few of them –
Vulnerability Scanning
Vulnerability scanning is an auditing procedure that offers a complete rundown of potential points of attack found within the computer software. It is an automated process that offers improved system protection and network security by eliminating cyberattacks and other malicious activities. What's more, it verifies vulnerable web apps and network boundaries by using automated scanners.
A vulnerability scanning cloud audit includes a checkup of the following things:
Systems
Networks
Cloud infrastructures
Web applications
Network service apps
Docker containers
SDLC Pipeline Audit
You can use software development life cycle (SDLC) methodologies like V-Model, waterfall, spiral, and prototyping. Proper SDLC pipeline configuration is vital as it underlies the creation of working software. On the other hand, if your CI/CD pipeline is not secure, then chances are there it may expose sensitive data to outside sources.
Specialists can detect cloud security vulnerabilities and verify your CI/CD resiliency that they can control. Also, they will ensure that your SDLC environment configuration is secure and no secrets are exposed. So that your SDLC architecture will be in line with the prevalent security standards.
Configuration Hardening Audit
Configuration hardening checks guard systems proactively by reducing the attack surface and having sound system fortification. The essential goal of configuration hardening is to prevent potential cloud threats. But at times, it becomes challenging for enterprises to see whether their configurations are correct.
Cloud audit teams assess critical service configurations and systems to solidify them against vendor-neutral standards. Additionally, they ensure that the operating system software is updated to stay ahead of new exploits and that this process runs seamlessly.
The aspects of assessment in the configuration hardening audit are as follows:
Virtual and physical cloud systems
Containers
Clusters,
Virtual machines
Network devices
Cloud Infrastructure Audit
Cloud infrastructure security, performance, and cost assessment audit detect infrastructure misconfigurations, vulnerabilities, and threats within the cloud environment. Also, it can check whether a cloud has sufficient monitoring capabilities and verify the access and security policies to improve risk.
Cloud auditors assess infrastructures against CIS benchmarks to detect misconfigurations to optimize financial resources, time and effort needed to maintain the infrastructure. All these activities can improve the overall configurable computing resource utilization.
How to Conduct Cloud Audit?
Cloud audit firm ensures that the nuances of cloud environments are delivered according to specific controls, especially those involving risk management and security policies. In addition, cloud computing service audits look for evidence in a vendor's offering and ensure that it complies with relevant standards and benchmarks in delivering its services.
Here is how you can conduct a cloud security audit for your organization –
Ask your cloud vendor about operations and way of delivering services
Know how to safeguard and upgrade your cloud infrastructure
Ensure that vendor processes align with CSA (Cloud Security Alliance) controls
Combine analysis with the evidence fetched from documentation and interviews
Prepare a final report and submit it in a formal audit briefing
Schedule time to recommend actions
Assign a team to respond to the actions that you defined
Opting for a cloud audit is undoubtedly the best way to ensure better accuracy and enhanced security of your cloud operations. A cloud auditor assists you in understanding outdated areas of your cloud processes, determining exploits, and streamlining overall performance.
A reputed cloud solution provider can save your company money and time by optimizing your cloud computing capabilities. Whether you need skills or expertise in cloud security or want to develop machine learning models, an experienced cloud solution provider can help you overcome business challenges and increase your system performance.
Conclusion
Cloud computing audits have become essential with the increase in awareness of data security among users. To combat data security issues, they request different cloud computing audits to gain assurance and lower the risk of their information being lost or hacked. A cloud vendor's best practices ensure they provide necessary controls, crucial security guidelines, and risk management tools. Overall, it provides enhanced visibility into the security posture of your cloud assets.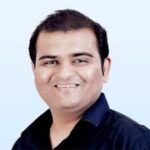 Hardik Shah is a Tech Consultant at Simform, a firm which has a team of expert app developers. He leads large scale mobility programs that cover platforms, solutions, governance, standardization, and best practices.
Your comments are welcome!