There are an estimated 1.78 billion web pages on the internet now. Given the significant move from brick-and-mortar businesses to internet commerce in 2021, these numbers are only likely to rise. However, the average user will only spend about 5 seconds reading the written material on a website.
Standing out amid the crowd requires a lot of effort, and you'll need an amazing website design to do it. However, the proper kind of visitors is drawn in and engaged by good website design, which provides a compelling argument for them to take a certain action. At the same time, it helps your audience grasp what you stand for by communicating your brand messaging.
Choosing the best web development firm is a time-consuming task. You'll need to think about the best location, determine a budget, read reviews, and evaluate different degrees of experience and customer numbers. You can also dig further to see what kind of work the web development firm specializes in, how it works, and any recent honors it has received.
List of Top 10 Web Development Companies For Your Projects:
"Groovy" means "excellent," and that is exactly what they are: well-known custom mobile app development and bespoke web development firm that has been delivering cutting-edge digital solutions on time and within budget for more than six years. They consider themselves creators, and they give each project their full attention and excitement to ensure that it succeeds well.
It is important to us that they deliver on their promises on schedule. Already served over 250 delighted clients and completed over 500 projects, resulting in a higher client retention rate year after year. As a result, be listed in the clutch. Co is the fastest-growing firm and among India's top 100 IT services providers.
LocalSolicitors is a free marketing platform that allows lawyers to promote their company and interact with potential clients. Creating your online profile takes less than 2 minutes, which is entirely free. Once you've signed up, you'll be able to use our excellent services right away to help you create the brand and produce more leads and clients for your business which was commissioned by Groovy Web to create a customized application for marketing. In terms of communication, technical expertise, and professionalism, Groovy Web LLP exceeded the client's expectations. They also managed the project well, thanks to a highly competent project manager who ensured both parties were always on the same page, which is why the client is completely satisfied with Groovy Web's work.
Services offered
Web design and development
Development of SAAS
App creation for mobile devices
The creation of an MVP
DEVELOPMENT MEAN
Extension for your browser
Development of desktop applications
Development of a chatbot
UI/UX (user interface/user experience) design
Digital marketing, etc.
Industries serving
Start-ups
Legal
Travel and lifestyle
Social
Enterprises
Defence and Aerospace
Information Technology (IT)
Manufacturing
Telecommunication
Health care & Medical
Year of establishment: 2015
Headquarters – India
Iflexion
Iflexion is a leading online application development firm that provides dependable solutions that work on PCs, smartphones, and tablets. They also provide cloud-native development and use microservices architecture for web application development and large-data systems. Iflexion has worked with clients in various industries, from small to huge corporations.
The tech firm will offer you a complete web app development service. They help you deliver a high-end user experience from exploration and planning to development and implementation.
Services provided include:
Development of web and enterprise portals
Solutions for content management
Solutions for Social Networking
eCommerce with several channels
Business intelligence and big data
Distribution of media content
Automation of business processes
Mobility solutions for consumers and businesses
Cloud-based technologies
Year of foundation: 1999
Denver is the company's headquarters.
BairesDev
BairesDev is a web applications solution and software development company specializing in customizing software for unique business needs. They also offer businesses remote delivery teams and expanded teams to develop custom web applications. BairesDev's services are mostly centered on nearshore capabilities. However, they do provide remote solutions for clients all around the World.
Services provided include:
Development of custom software
Web design and development
Consulting in BI and Big Data, as well as SI
Development of web applications
The year the company was founded was 2009.
San Francisco is the company's headquarters.
Unified Infotech
Unified Infotech brings together a group of dedicated minds to turn your ideas into reality and provide clients with an amazing digital experience. They provide solutions, from website design and development to mobile applications and SaaS systems, helping business clients increase productivity and drive growth in their fields.
They have been committed to achieving and pushing the bar of excellence since 2010. They provide end-to-end solutions for multi-million dollar financed start-ups to small and medium businesses by using the power of technology. Art and culture also motivate us, as seen by our New York and Kolkata presence.
Services offered
Web app
Web design
Ui/UX design
Custom software
Mobile apps
Year of establishment 2010
Headquarters India
Octal IT Solution
Octal IT Solution is a certified company with offices in the United Kingdom, India, and Singapore worldwide. Octal IT Solution has built over 1000+ mobile and web apps for 500+ clients from all over the World. They offer creative solutions from our well-established development centers and onsite work settings, thanks to our staff of 180+ seasoned specialists.
Octal IT Solution has achieved important associations from technology leaders such as Microsoft, NASSCOM, Amazon Web Services, Acquia, STPI, D&B, and others for its top-notch and inexpensive solutions. Also, hundreds of clients value us on AppFutura, Clutch, GoodFirms, AppLancer, Appdexa, and Extract, where we routinely rank among the Top-10 Mobile App Developers.
Services offered
Web development
Mern Stack development
Software consulting
Mobile app development
PHP, WordPress, full-stack etc.
The year of establishment: 2007
Headquarters Jaipur (India)
AXAT Technologies
AXAT Technologies is an information technology company that offers Technical Consultancy Services to clients all over the World. They have a cutting-edge Delivery Centre in Mumbai, India's commercial capital, with the best infrastructure and 24*7 connectivity.
Today, they have created a world-class team of Creative Designers, Analytical Developers, Skilled Internet Marketers, and Best of the Best Mobile Application Developers. The AXAT Team believes in the value of "Gaining the Belief of our Valuable Customers." And it is because of this belief, they have earned the Best Clients in the World.
Services offered
Custom website development
Custom software development
UI/UX
e-commerce website development
Cloud solutions
Mobile app development
Year of establishment 2010
Headquarters Mumbai, India
Artoon Solutions Pvt. Ltd
Artoon Solutions Pvt. Ltd., a leading outsourcing company in India, concentrates on achieving client satisfaction by providing industry-specific solutions that are fine-tuned to fit their needs for the betterment of enterprises.
They are hard-core IT specialists at Artoon Solutions Pvt. Ltd; and provide a wide range of services to corporations and SMEs, ranging from enterprise applications to web portals, e-commerce, social networking, and digital marketing and consulting services. Also, they are experts in providing top-notch mobile app development, game development, and web development services.
Services offered
Web development
App development
Game app development
PHP development
Year of establishment –
Headquarters Surat (India)
Aalpha Information Systems pvt.ltd
Aalpha Information Systems has worked with well-known brands worldwide to take their web development needs to the next level. Aalpha Information Systems was founded in India to assist brands in becoming their best, most user-friendly selves.
When their client required a more impactful and effective strategy for reaching goals across the country, Aalpha Information Systems delivered a focused service still ongoing today. Their strategy entailed honing their client's distinct voice and visual profile for them to be more effective in a crowded digital space.
Services offered
Mobile app development
Web development
Software development
Offshore outsourcing
Blockchain development
Year of establishment –
Headquarters Bengaluru (India)
Experion Technologies
Experion Technologies is an Inc. 5000 business that provides futuristic and scalable solutions to help brands like Speedo take their businesses to the next level. In addition, they work with medium-sized businesses to create mobile apps and custom software for the healthcare and transportation industries.
Experion, for example, assisted a South American seaport in reengineering its business process to reduce costs and better serve its customers. The team created a cloud-based solution compatible with mobile and web devices and provided a real-time scenario of operations and additional organizational features.
Services offered
Enterprise software development
Product engineering
Mobile app development
Year of establishment – 2006
Headquarters Trivandrum (India)
DevTechnosys
DevTechnosys is a tech-savvy, quality trendsetter team of developers, with over 950 apps delivered and over 450 clients. They operated with businesses of all sizes and in various industries.
They created a DDR App as an example. The soccer league app provides media updates, focusing on the RCA team. The sports app and website aim to bring together the RCA team's fan base and serve as a platform for sharing updates with the community.
Service offered
Full-stack development
Mobile app development
Software product development
Year of establishment – 2010
Headquarters Jaipur (India)
Conclusion
Web app development businesses offer various services, including full-cycle development, design research, and product creation. Picking the right web application development company can result in scalable, flexible, and strong solutions that help you increase your company's agility.
However, to select the ideal organization for your needs, you must examine their services and compare them to specific business goals.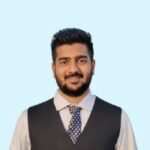 Krunal Panchal is the CEO & Co-founder of Groovy Web. He has been a hardcore programmer since he was 11 and started his professional career very young. His technical and logical mind drove him to choose coding as his destiny. At an initial stage, he got essential experience and the spirit of innovation and entrepreneurship. Learning something new is a never-ending process for him. Under his leadership, Groovy Web has become an established organization that serves industries from startups to enterprises, regardless of any limitations.
Your comments are welcome!