Is Python the Future? Python language has been one of the most continuously growing programming languages of all times. Yes, you read it right. Though it has not seen the bright years earlier, it has shown remarkable growth in the 21st century. The Stack Overflow indicates that Python has witnessed steady progress among other major programming languages.
When speaking about the progress rate of this programming language, we know that it is hard to gain popularity and growth as well. Due to this, Python is popularly utilized for the development of web or web applications, game, mobile applications, scientific computing, system administration, and more.
If you're planning to make use of it, there are many companies offering the Best Python Development Services. Connect them, and give your dreams a shape. 
Now, let us see how bright future Python has through the following features and benefits it offers.
Features of Python
1. Versatility
Python is one of the most versatile programming languages because it offers great assistance for web development and data science. The rise in the traffic for prominent Python packages prove the current growth across the fields of data science and web development.
Python community people have developed the code stack of several open-source repositories that help evolve the existing methods. The stack overflow specifies that Python has been the fastest rising package by far. Thus, data science has been the driving factor in the rise of Python.
2. Free of Cost
We mentioned earlier that Python is an open-source programming language, which means it is available free of cost to the public. It means that anyone can utilize its codes over the internet. Companies having a limited budget can easily use this programming language. Thus, the overall cost of development is reduced if the programmers get Python tools for free.
3. Proven and Ready-to-Use
Python offers a wide range of functionalities that include packages for loading and handling the data, visualization of data, transformation of inputs into a numerical matrix, machine learning and calculation. Therefore, you only need to write the code that will blend with everything else to assist the development.
4. Supports Front-end and Backend
Python is an all-purpose language that developers can utilize for front-end as well as back-end development. Tools like Java, C++ and others are a few examples of such tools that support front-end and back-end development.
Though Python does not support front-end development as it does the back-end development, a few of its frameworks support front-end development. Django and Flash are the Python frameworks that widely support back-end programming.
5. Cross-Platform Functionality
Cross-platform functionality is one of the amazing features that Python offers. It can be proved from the fact that it supports various operating systems like Linus, Windows, Ubuntu, and many more. It means that if developers write codes on Mac, they can run them flawlessly on Windows as well.
6. Offers a Wide Array of Tools
Python has a wide collection of standard libraries that reduce the coding and relevant functions of development. These libraries come with in-built codes that help in accomplishing the purpose.
They offer tools and functions that include file formats, in-built functions, traditional Python interpreters, Tkinter, internet protocol and support, modules, and many more.
The use of these libraries enhances the overall functionality and usefulness of Python as a developing tool. As a result, the entire development process reduces and saves a lot of time.
Thus, when you select Python as a programming language for your mobile or web app development, it also saves your resources efficiently.
7. Reduced Coding
Python is an easy-to-use programming language when compared with other languages. Developers can easily write codes using this language. Moreover, when you intend to master this language, then you also need to be an expert with many technicalities that it offers.
8. Strong Community Support
When a programmer develops an application or a web project, it is essential that he/she writes bug-free code, and it is a challenging task most of the time. Besides, all developers require support at one point when they get stuck in the development process.
We know that with deadlines on hand and challenging tasks, no programmer would like to take up a language wherein they get stuck with the queries that are hard to resolve.
However, when you have Python with you in your development project, you will never face such difficult situations. The latest information provided by Stack Overflow says that Python is one of the most loved programming languages for developers.
All of this indicates that Python has strong community support, and it provides a wide range of tutorials as well, which has made it survive this long for years. Talking about the support of the community, there is no limit to it.
It is one of the reasons why small start-ups utilize Python for their upcoming software development project. Moreover, the developers hired for the projects can work smoothly and flawlessly because of this very reason.
9. Large Companies Utilize Python
Some of the tech giants in the technology-world have utilized Python and they are Netflix, Dropbox, Facebook, Google, Paypal, Uber, and Reddit in their app development and testing. Besides, robotics and devices such as Arduino have also used this programming language in their development projects.
Apart from these said facts, a few of the older systems that are written in C++ and C can also easily communicate with Python because it effectively helps in data analysis. One of the big examples is Goldman Sachs, which is one of the largest financial institutes utilizing this programming language to process huge amounts of data they produce.
10. Language of Education
The use of computers in the education field has drastically changed in recent time with the emergence of various technologies. Earlier, students learned only the basics of the computer through simple presentations.
However, now technology has taken a rise, and therefore, coding has become an integral part of computer learning in the education sector. 
The easy-to-understand descriptions and syntax make Python a simple programming language. It is popular for its enhancement of user experience, which makes it ideal for teaching the language to children as well.
Moreover, Python makes an ideal choice of a standard language for Raspberry Pi, which is a computer-based in education. It means that one of the versions of Minecraft teaches this programming language.
If we speak about universities, they have started teaching Python in computer science as well as mathematics subjects. Thus, it has become one of the rapidly rising languages in Codeacademy.
Is Python the Future?
Python has topped the list of programming languages admired by professional developers. No language can beat it due to its rapidly growing functionalities and fame. Today, web or games are built using this programming language.
All of the facts and features we discussed in the post indicate that the future of Python is very bright and it is not going anywhere. To end it on a proving note, it is also taking a step forward in the direction of Artificial Intelligence.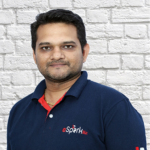 Harikrishna Kundariya, a marketer, developer, IoT, ChatBot & Blockchain savvy, designer, co-founder, Director of eSparkBiz Technologies @Mobile Application Development Company. His 8+ experience enables him to provide digital solutions to new start-ups based on IoT and ChatBot.
Your comments are welcome!