Pheed
Pheed is a free social media platform for web and mobile devices. It looks like a "mashup" of popular social networks as Facebook, Twitter, Tumblr, Instagram, YouTube, and SoundCloud. Pheed launched in October 2012. The catchphrase for Pheed is "A new way to express yourself."
The iPhone app launched on November 10th, 2012. On February 19th, 2013, Pheed was ranked the #1 app in the Apple Top Charts social category, above Twitter and Facebook.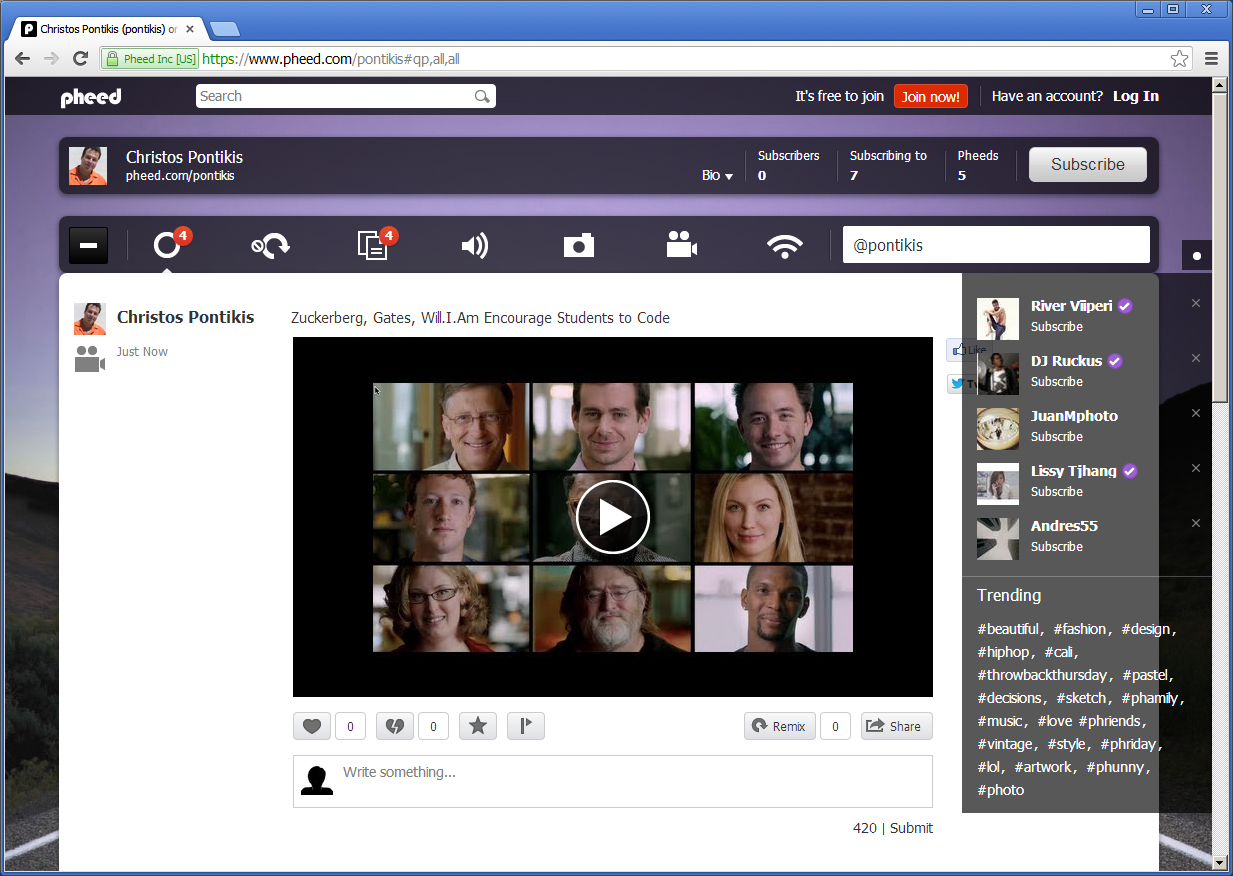 It is remarkable that Pheed offers users the option to monetize their content. Users can charge anywhere from $1.99 to $34.99 per view, or $1.99 to $34.99 per month. Another important feature is that allows you to share voice-notes.
Conflicting opinions have been expressed about Pheed: Forbes described Pheed as "Twitter with a business plan", while Gizmodo wrote: "So what is Pheed? Long story short, it's a shitshow."
Pheed is very simple and user friendly. It has 350.000 unique visitors the first days after launch and more than 1.000.000 now. Stars like Miley Cyrus and Paris Hilton are already on Pheed. Is Pheed the next big social network? Time will tell…!
VK
About 200 million registered users. More than 40 million daily users. Alexa Traffic Rank 25 and the second most popular site in Russia.
VK was founded in 2006 by Pavel Durov, just over two years after Facebook's launch. Its fist bane was VKontakte.ru (means something like "keep in touch" or "in contact"). Very close in design and functionality to Facebook, you can think VK as the "Russian Facebook". The competitive advantage that VK has with its impressive media sharing tools.
VK is a European social network, available in English interface (not only Russian). It is extremely popular among Russian-speaking users around the world. VK is especially popular in Russia, Ukraine, Kazakhstan, Moldova, Belarus, Israel and the USA. As of January 2012, VK.com is the 4th most visited website in the whole of Europe, behind only Facebook, Google and Mail.ru Group.
It is very popular to young people, but it is not a dating site, as you can find people with any king of interest. It seems that in VK Mark Zuckerberg found a tough opponent. Social Network From Russia With Love!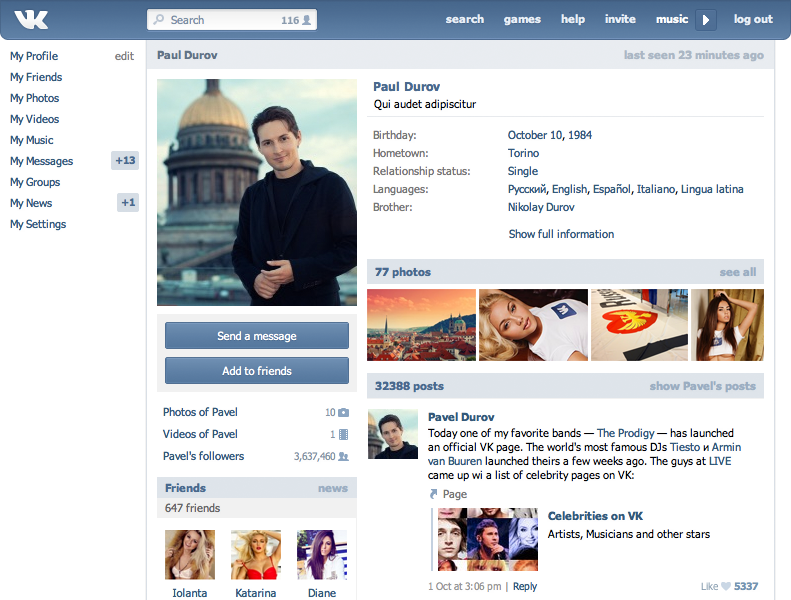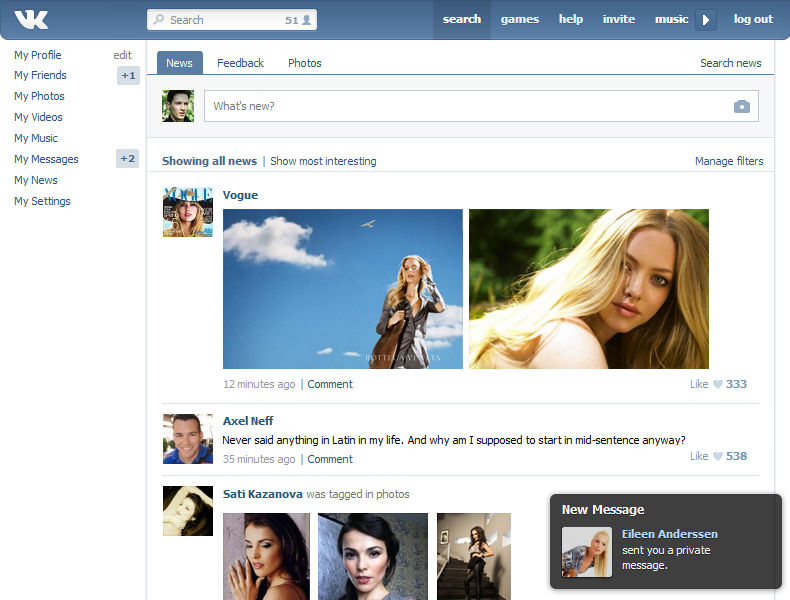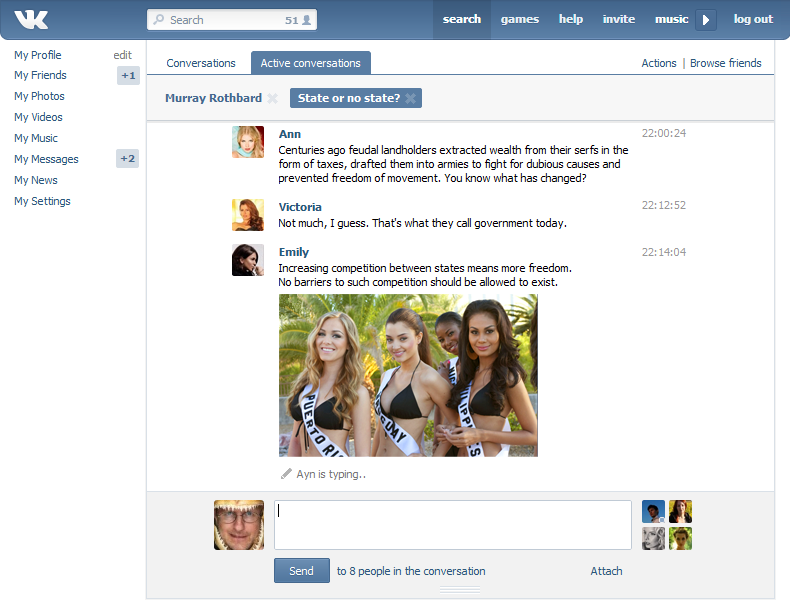 Renren
About 160 million registered users and more that 30 million active users per month. Alexa Traffic Rank 141 and 24 in China.
In Chinese means something like "Everyone's Website". It is the social networking platform for the college-educated population in China. We could say that Renren is the China's Facebook.
RenRen is a typical social network, offers many "Facebook" functions. Only Chinese interface is available at the moment. Registered users can add friends to the friend list. By specifying educational information in the profile, a user can easily find other users. Users can also publish contact information, hobbies, favorite music, movies etc. RenRen also offers blogging, voting and sharing others' blogs.
An interesting feature of Renren is the collaboration with academic researchers. In this way, many academic publications have been produced. The result is similar to Facebook's social graph.
Sina Weibo
More than 400 million registered users (twice as Twitter!).
Alexa Traffic Rank 29, 6 in China. One of the most popular sites in China, used by over 30% of Internet users. About 100 million messages are posted each day on Sina Weibo.
"Weibo" is the Chinese word for "Microblogging". Sina Weibo is the most visited site, followed by Tencent Weibo.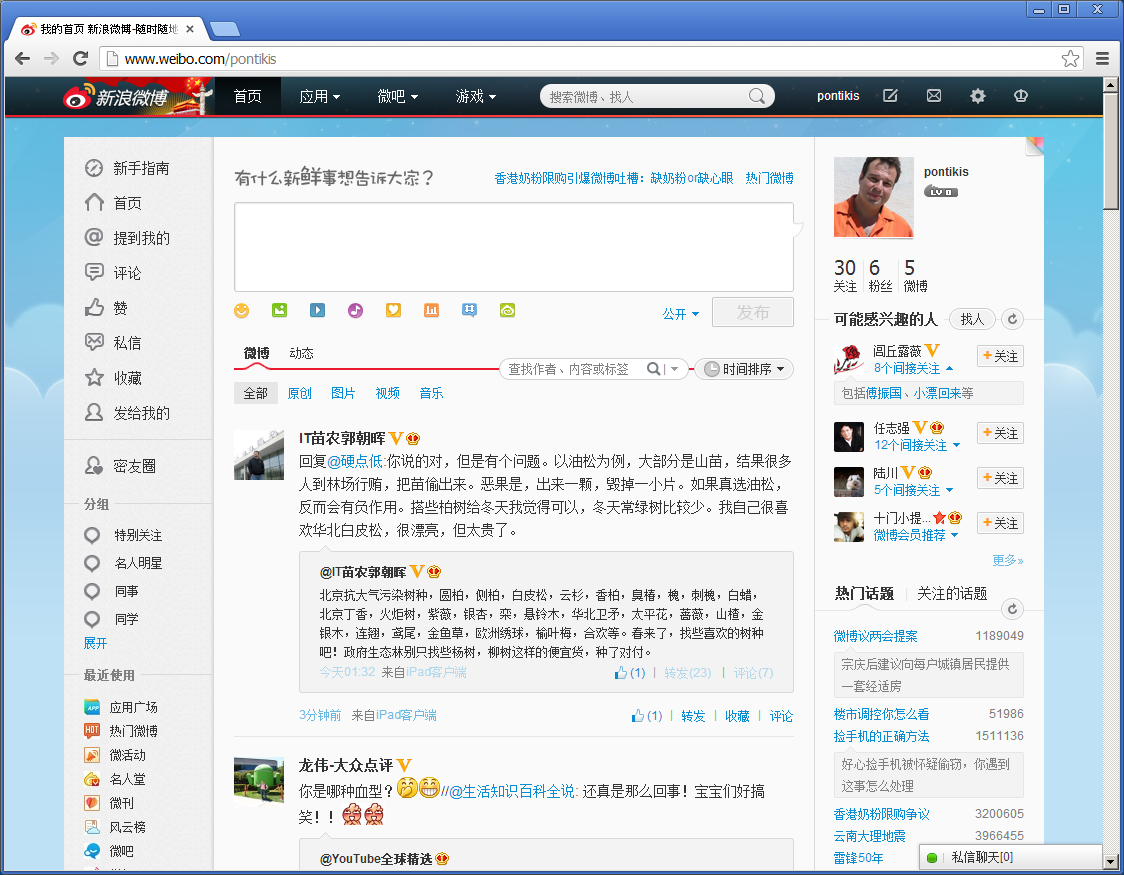 Simply the China's Twitter. It was launched by SINA Corporation on 14 August 2009. Sina Weibo had 56.5% of China's microblogging market. Sina said that more than 5,000 companies and 2,700 media organizations in China use Sina Weibo.
It's also a celebrity hub. According to Mashable:
Just as American celebrities communicate with their fans via Twitter, Chinese celebrities depend on Weibo as a way to connect with their fans and drive popularity. Interestingly enough, Bill Gates easily has twice as many followers as Tom Cruise on Twitter (Gates with 7,215,994 and Cruise with 3,077,444), but Cruise has 4,231,919 followers on Weibo, one million more than Gates.
Sina Weibo has Chinese interface. Recently, Sina rolled out partial English interface, which is not yet available worldwide. More information here.
Indyarocks
Indyarocks.com (founded by Kalyan manyam and Dr.vishnu) is an online and mobile social entertainment platform for Indians across the world. It is available in Eglish interface. Indyarocks is one of the fastest growing social networking sites in India with more than 80.000 active users monthly.
Users can get new friends and keep in touch with them. They can also create, upload, and share photos, videos, music and movies. Remarkable features are: free sms, chat and gaming community.
Entrepreneur | Full-stack developer | Founder of MediSign Ltd. I have over 15 years of professional experience designing and developing web applications. I am also very experienced in managing (web) projects.
Your comments are welcome!